Voyage of Discovery
This beautiful artwork 'Voyage of Discovery' was created in pastel by Michael Pervan and gifted by him to the Passionist Family Group Movement of Aotearoa.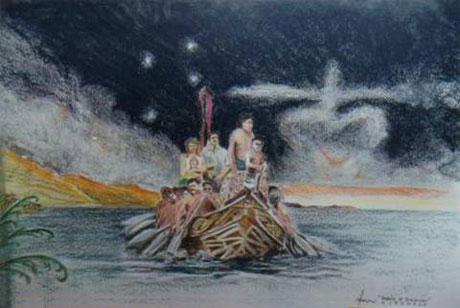 This artwork truly represents what PFG's in New Zealand are all about.
Voyage of Discovery
Maori travelled to Aotearoa New Zealand from Hawaiiki in canoes (te waka). Today, different tribes trace their geneology back to the canoe in which their ancestors travelled.
In this pastel, the occupants of the canoe represent Passionist Family Group members. They are from many cultures and they undertake various roles. Some are rowing, some steering, and some watching to see what is happening in the distance. Some are searching the waters close by. Some nurture children and some care for the sick and elderly. Together, they make up "a tribe", a Christian family.
New Zealand is a country of thermal activity. The glow of red showing through the Passionist logo represents the fire in our hearts. The logo shaped in the cloud reminds us that although there is no longer a resident Passionist community in New Zealand, there remains a strong Passionist presence and influence.
Many times since the beginning of the Passionist Family Group Movement in our country, we have had to adapt and develop new roles and ways of doing things. We have taken the Movement to other areas throughout the North and South islands and to other Christian churches. Always, the Passionist charism and support is here to guide us.
The Directors have chosen this pastel to be the emblem representing the 20 year anniversary of Passionist Family Groups in New Zealand, and for it over the next few years to make a journey or voyage all around New Zealand. It will travel to each parish with Passionist Family Groups as they celebrate their 20th anniversary of starting family groups. As the artwork goes to each of the six dioceses in New Zealand it will be blessed by the Bishop for the diocese.
The voyage began at Paeroa on Sunday 15 June 2008 (see separate article on this website) when Clive and Frances Bleaken, PFGM Directors for Hamilton and Auckland Dioceses, presented it to Paeroa parish. Paeroa is where the PFGM 'bushfire' began on 27 June 1988, and spread rapidly through the country over the following few years.
Unfortunately Paeroa did not get to retain the 'Voyage of Discovery' for long, as East Coast Bays parish in Auckland's North Shore joined a week later on the 2nd of July 1988. On the afternoon of Sunday 7 July Paeroa parish coordinators Maggie and Charlie Gribble brought the artwork to the Bishop's house in Auckland for it to be blessed by Bishop Pat Dunn.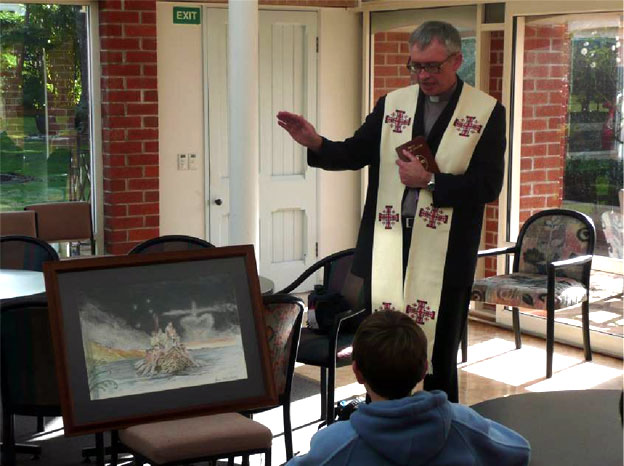 Bishop Pat blesses the artwork
The artwork then began the next part of its voyage when it was handed over to Kathy and Mark Williams parish coordinators for East Coast Bays in readiness for their 20th anniversary celebrations on Sunday 27 July (see the separate article on this website covering the East Coast Bays celebrations).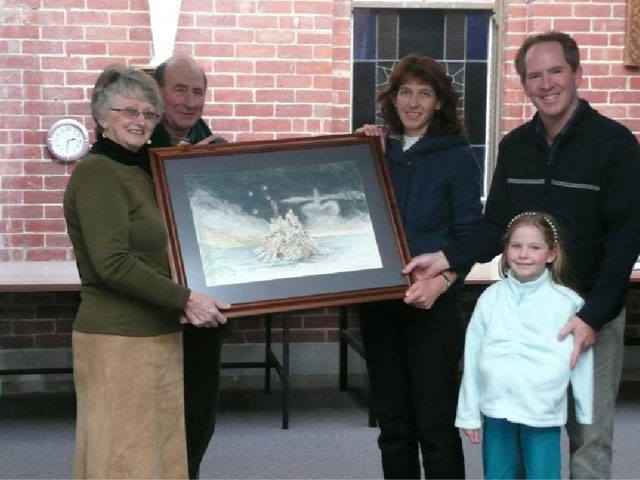 Maggie and Charlie Gribble pass the work on to Mark and Kathy Williams (and daughter Ashleigh)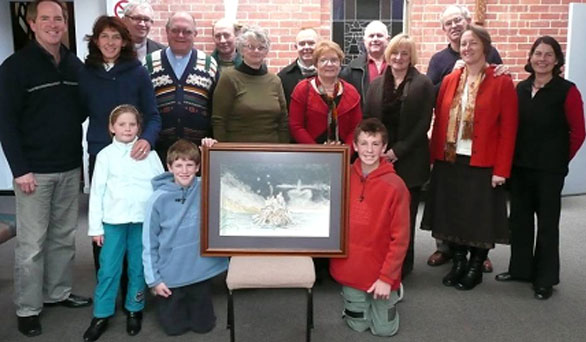 Blessing ceremony gathering
Next will travel to Palmerston North when it will be handed over to Paul and Linda Darbyshire; PFGM Directors for Wellington and Palmerston North Dioceses.
On Sunday September 20th Paul and Linda Darbyshire picked up 'The Voyage of Discovery' from Clive and Frances Bleaken in Hamilton. The artworks accompanied them on our holiday right to the top of NZ, Cape Reinga, and arrived in Palmerston North on Friday 26th September.
Barbara Vine, Helen Codlin, Rose Comber and Linda Darbyshire met with Bishop Peter Cullinane at the Bishops Office on Wednesday 1st. October to have the artworks Blessed.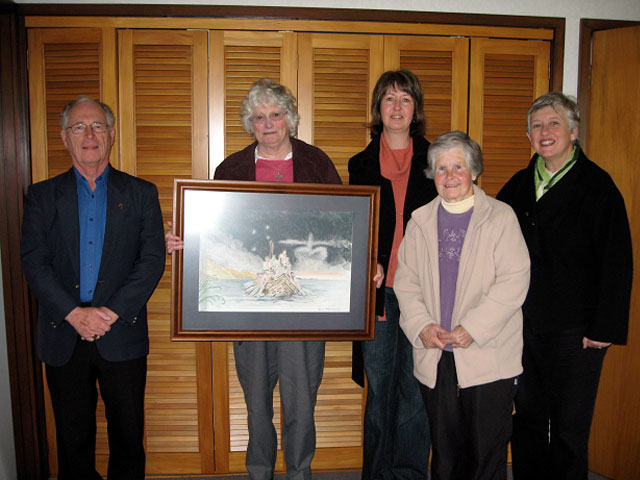 Blessing Ceremoney Gathering
Barbara and Helen returned to Wanganui eager to display the artworks at their 20th Birthday Celebrations on 4th / 5th October.
At the Wanganui celebrations the work was displayed along with an explanation of its origin and its journey through the country to visit each parish as they celebrate 20 years of Passionist Family Groups.
After their Birthday weekend Barbara entrusted the artwork to Fr John Roberts who was heading north for a meeting. As he was not passing through Hamilton he said he would drop it off at either Ngaurawahia or Huntly. After his return he eventually reported that he had left it at Huntly but unfortunately there was no one at home and so he left it on the back porch by a door which, as it turned out, was seldom used by the people of Huntly. When Barbara notified Clive and Frances that it was at Huntly there was general consternation when no one there had any knowledge of it. When told of the delivery to a porch they walked around the building and found it unharmed along with another undiscovered delivery. The Lord was watching over us and the artwork.
A Celebration of 20 Years of the Passionist Family Group Movement at Our Lady of Lourdes Palmerston North
At Our Lady of Lourdes Palmerston North we celebrated 20 years of PFGs on 23rd March 2014 at the 10a.m. Mass. We had our banner displayed in the entrance and the Voyage of Discovery artworks was displayed near the altar.
Linda Darbyshire gave a wonderful talk on what PFGs meant for her and Paul and some of the history of family groups in our parish. (One interesting fact was OLOL started with five groups and still has five groups) Linda was given a wonderful applause for her great talk.
Fr Des Darby presented parish Co-ordinators Mary and Wayne Dorn with a special '20 years PFGM' candle and a framed copy of the Voyage of Discovery artworks. After Mass we had morning tea and a large chocolate cake was cut and enjoyed by all the children present.
All the groups gathered in different places and had a planning meeting for the next 12 months, which has been very successful. We also had quite a few new members sign up on that day.
A Celebration of 20 Years of the Passionist Family Group Movement at Dunedin South Pastoral Area.
On Sunday 8 September 2013 at 10am at the St Patrick's Basilica a joyful Mass was celebrated to commemorate 20 years of Passionist Family Groups in the Dunedin South Pastoral Area. The Movement began in the Forbury Parish of St Bernadette's in September 1993. This was the first Parish in the Dunedin Diocese to introduce PFGs. Now, in 2013, there are 6 thriving PFGs in the Dunedin South Pastoral Area.
Frs Gerard Aynsley and Merv Hanifin celebrated the Mass. Murray and Aileen Straight shared a reflection as they had been involved in setting up the original groups in 1993 and, now living in Christchurch, are South Island Coordinators of the PFG Movement.
Murray and Aileen remembered Fr Kevin Morton as Parish Priest at St Bernadette's and Fr Gerard Aynsley as a young Seminarian posted to St Bernadette's at the time of establishing the original Forbury PFG groups. Now, as Parish Priest himself, Fr Gerard is a great supporter of the PFG Movement.
Murray and Aileen shared a large pastel picture modeled on the first 'waka' to come to Aotearoa. The art work depicts a canoe in which the occupants represent Passionist Family Group members. They are from many cultures and they undertake various roles. Some are paddling, some steering, and some watching to see what is happening in the distance. Some are searching the waters close by. Some nurture children and some care for the sick and elderly. Together, they make up "a tribe", a Christian family.
New Zealand is a country of thermal activity. The glow of red showing through the Passionist logo represents the fire in our hearts. The logo shaped in the cloud reminds us that although there is no longer a resident Passionist community in New Zealand, there remains a strong Passionist presence and influence.
They also explained the aims of the PFG movement:
To share our Christian lives together
To support one another in times of need and celebration
To give example to and involve children in our Christian sharing
To build and promote community spirit within the Parish
To live and love like the early Christians.
Sunday's Mass began with current group coordinators processing in carrying symbols of their groups.
The Mass was enhanced with music led by the young musicians of Lucy Matehaere, Matthew King, Craig MacDonell, Clare MacDonell, Callum MacLeod (and the not-so-young Colin MacLeod and Pauline Diack assisting on guitar and organ respectively), all of whom belong to PFGs.
The readers, Derrick Railton and Sr Jan Ogilvy OP are also members of groups. Children, Olivia King, Olivia Bell, Harrison Meltzer, Simmone Dunford and Rosa Vaughan read Prayers Of the Faithful, ably representing the different groups to which they belong.
PFG members have a lot of fun together, groups are made up of young, old, couples, children, single people, Non-Catholics who grow to support and care for each other.
The Pastoral Area Bulletin featured reflections from various people about their experience of belonging to a PFG, eg:
PFGs are one of those simple ideas that should happen everywhere in our Church but often don't happen at all.
Our PFG is like a big extended family - offering friendship, love and support.
The fellowship, fun, activities, support, prayer-chain, respect and value for each other helps our group continue to grow just like a wider extended family would.
PFGs have given us an extended family that supports us in our hard times and shares in our times of celebration.
Laughing and having fun together has led to caring deeply for each other.
Since our relatives are all in the North Island the Family Group has been our Dunedin extended family. Our children have very fond memories of being part of the group as they grew up. We have had a few sad times as members of the group have faced illness or other difficulties but we have been able to support each other and also share in each other's joy - and have had a lot of fun along the way.
At the completion of the Mass, a large crowd gathered on a beautiful sunny morning at the St Pat's Community Centre for morning tea. There was a buzz of happy talk as people shared memories and looked forward to the continued growth of the Movement in the Dunedin South Pastoral Area.
Article by Jan MacLeod.
Photos by Pat Tillard. (Except the group photo at time of the founding of the original Forbury PFGs)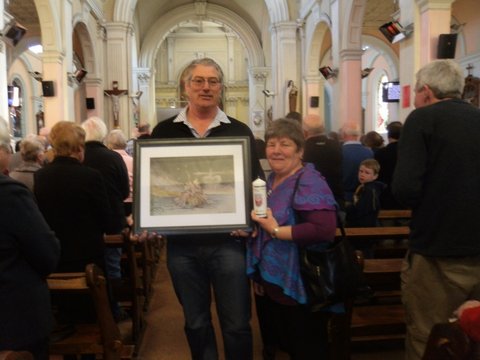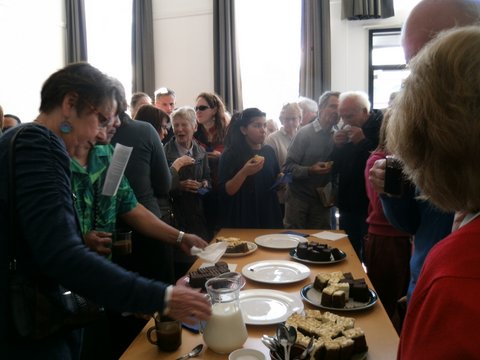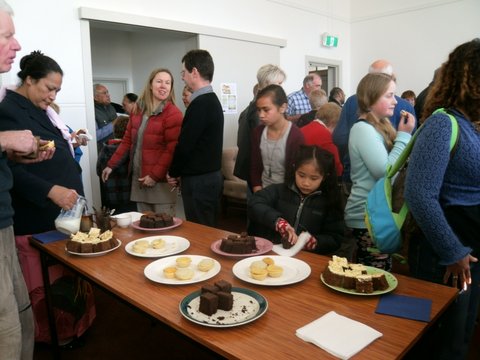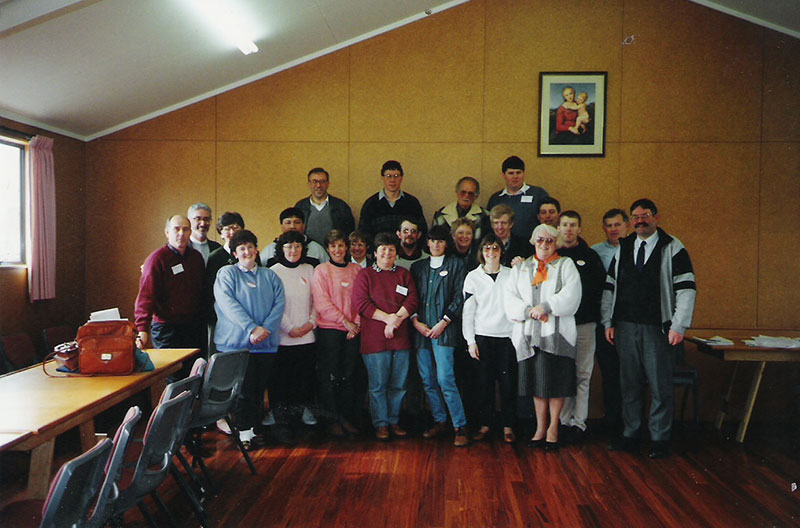 25th Anniversary St Mary's Paeroa
On Friday evening 28th June St Mary's Parish, Paeroa celebrated the 25th Anniversary of Passionist Family Groups in the Parish. All original Group Coordinators were present (Pat O'Hara deceased) and a message was read our from Joan Simson who was unable to be there (Kevin deceased) Kevin and Joan were the original Parish Coordinators.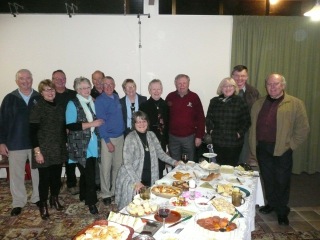 Fr Brian Traynor CP (Melbourne) and Bishop Denis Browne also attended.
Charlie & Maggie are the Coordinators in Paeroa, and Charlie led the evening, starting with the song 'Welcome to the Family', which has been sed as a PFGM Song all these years.
David Corbett (Group Coordinator) read from Acts 11:19-30 and this was followed by a reflection on the Priests who had served in the Parish over this past 25 years.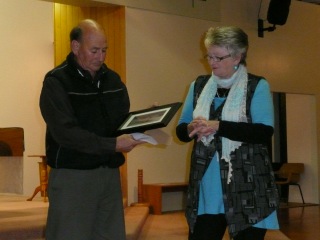 Deceased members were remembered, and this was followed by Prayer lead by Brian Traynor CP
We gathered in small groups to share memories of the 25 years and there was laughter and tears in this session.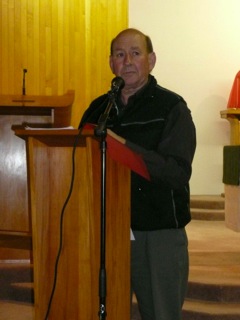 The next session named 'sharing the story' included talks from Brian Traynor and Lynn Hill (notes from these below)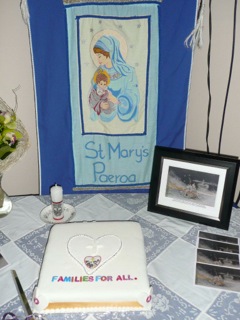 Charlie read a Poem of Pat O'Hara named 'the Mission', written to mark the Mission presented by Brian Traynor CP & Steve McGarry CP in 1979. This was followed by a presentation to Brian to thank him for his 25 years of work for PFGM, and a Presentation to Charlie and Maggie Gribble of a photo of the Painting 'Voyage of Discovery' for the FGs in Paeroa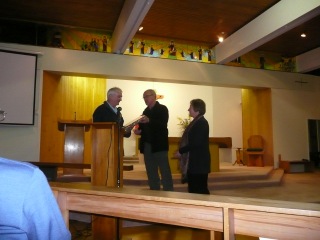 Bishop Denis spoke of the work of PFGM in the Diocese and thanked those involved in this. He thanked Brian for his service to PFGM in New Zealand and also thanked Rob & Lynn. Bishop then gave a blessing, the song 'Bind us Tother' was sung, and we adjourned to the Parish Lounge for supper and the cutting of the Anniversary Cake.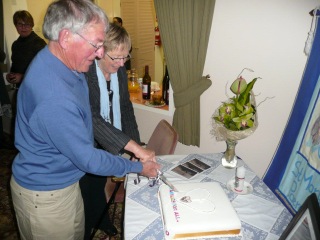 20 Years of Passionist Family Groups at Our Lady of Victories Sockburn
Recently the Sockburn parish of Our Lady of Victories celebrated their 20th anniversary of Passionist Family Groups.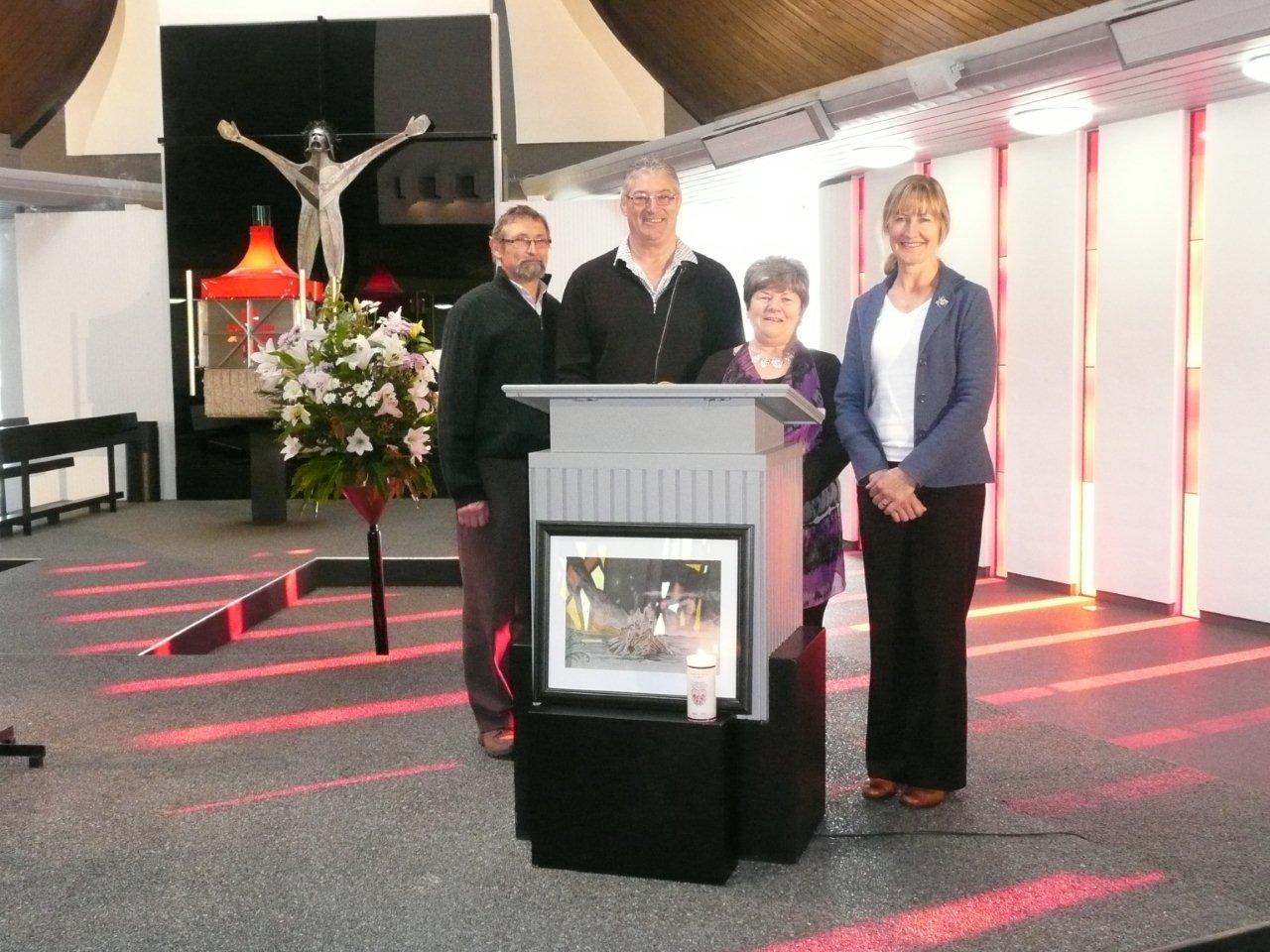 Bob, Murray, Aileen & Pamela
Saturday saw the groups in the parish get together for a Twenties Night. Prior to this weekend the parish co-ordinators Jillian and Terry Mitchell had spent several weeks setting up three new groups. Jillian and Terry along with Fr Michael's preparation and planning, has ensured the continued strong support for the groups from the parish. The parish now has twelve Passionist Family Groups.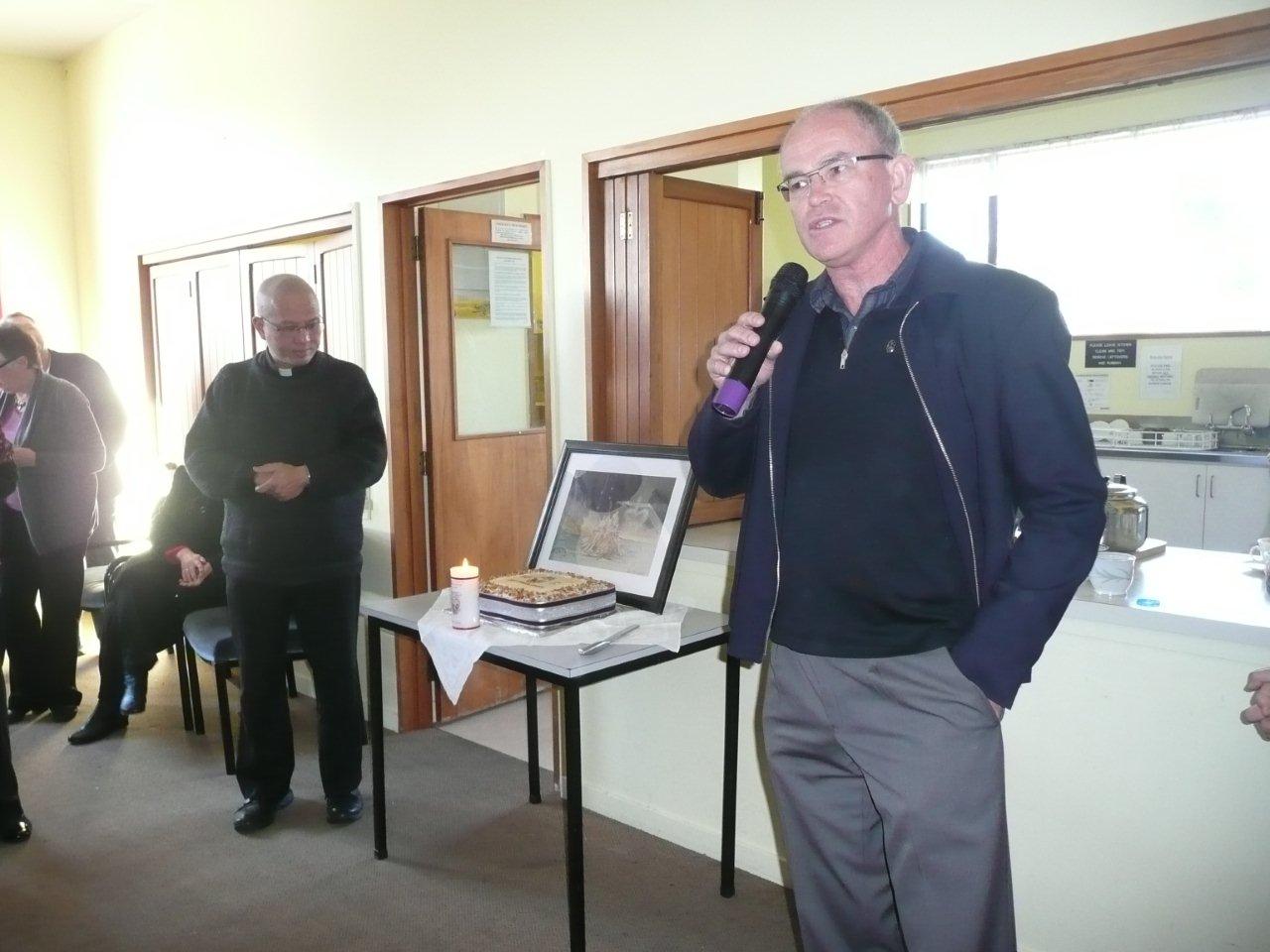 Frances and Clive Bleaken (Hamilton Diocesan PFGM Directors) who were involved in the 1993 PFGM set up, came down from Hamilton to be part of the celebrations. At the morning tea following the Mass, Clive spoke of their memories of those early days and what it was like to be in the parish at the beginning. Father Michael thanked Jillian and Terry for their efforts and acknowledged those that went before them.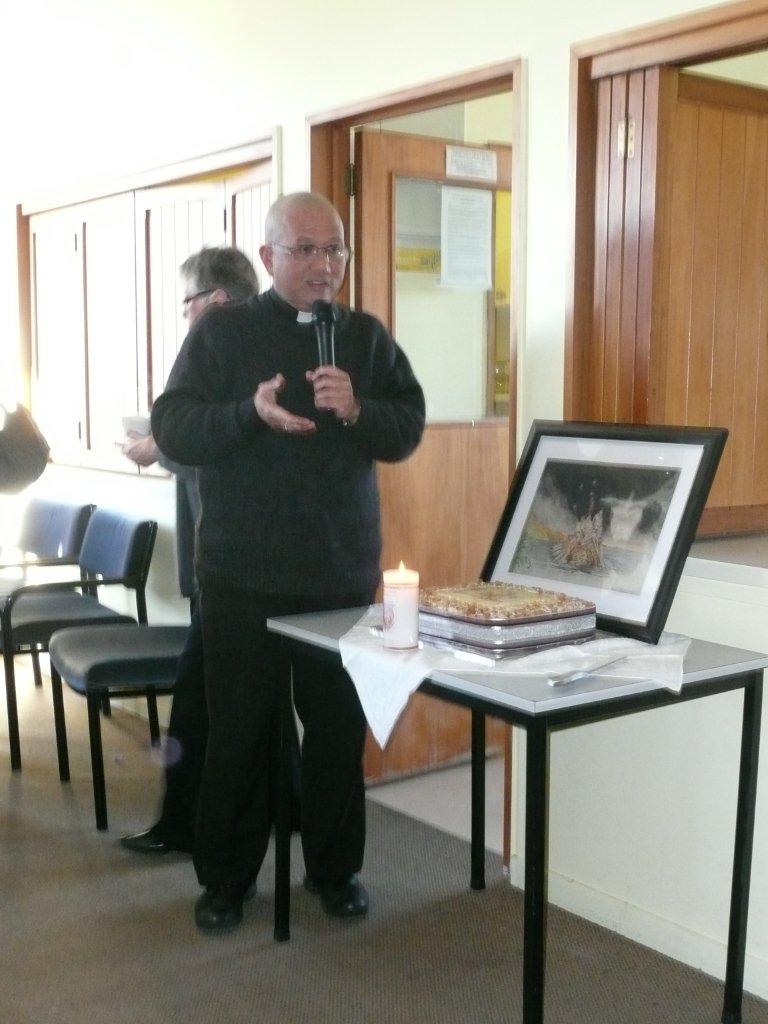 Many of the groups still have original members. Jillian made the yummy anniversary cake which she cut with her husband Terry.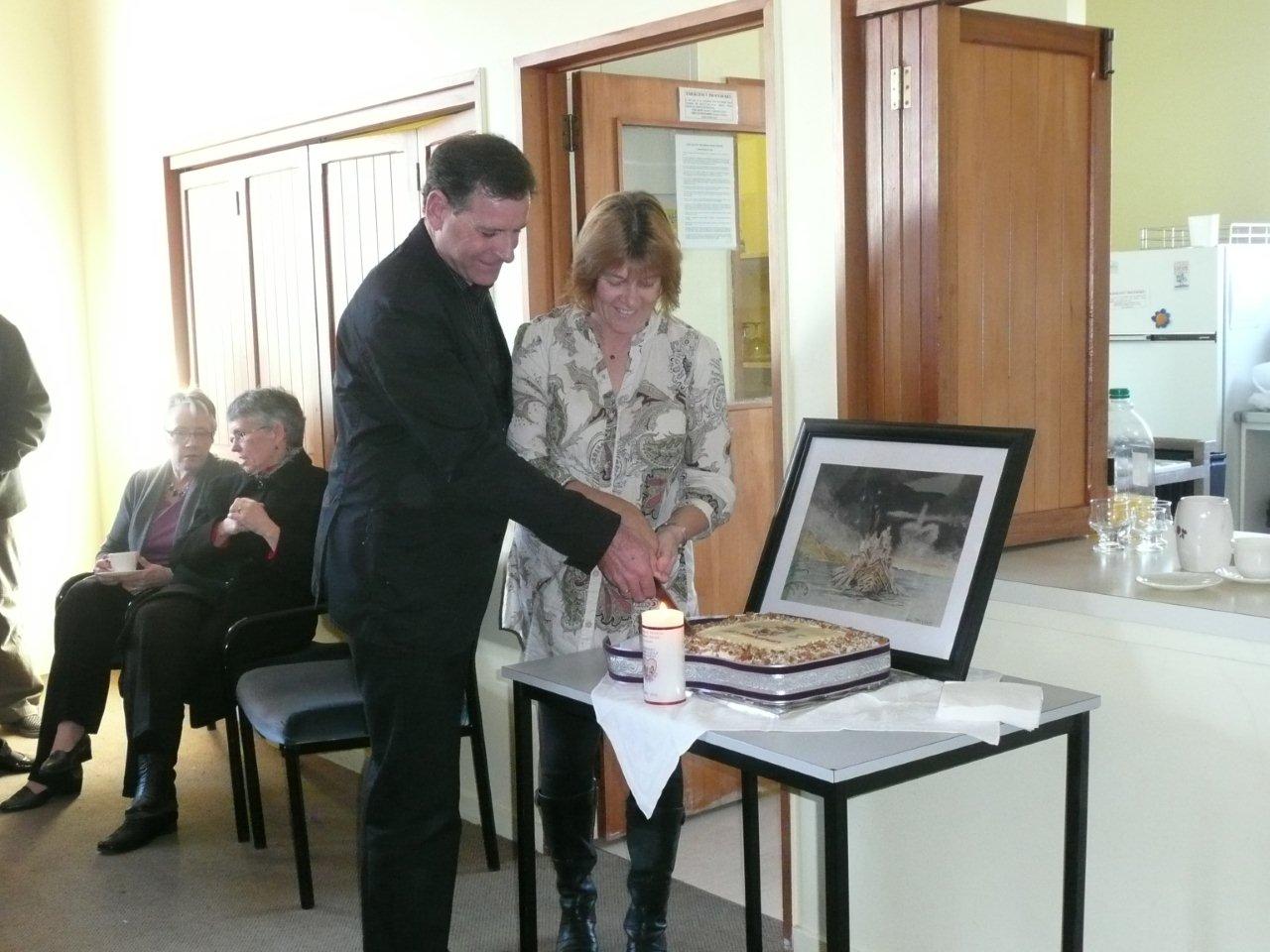 20 Years of Passionist Family Groups at Holy Name Parish Ashburton
Earlier in the year the Holy Name Parish in Ashburton celebrated 20 years of Passionist Family Groups. At the end of Mass Louise McCrea, who with her husband Richie are the parish co-ordinators, spoke about the early days of Passionist Family Groups in the parish.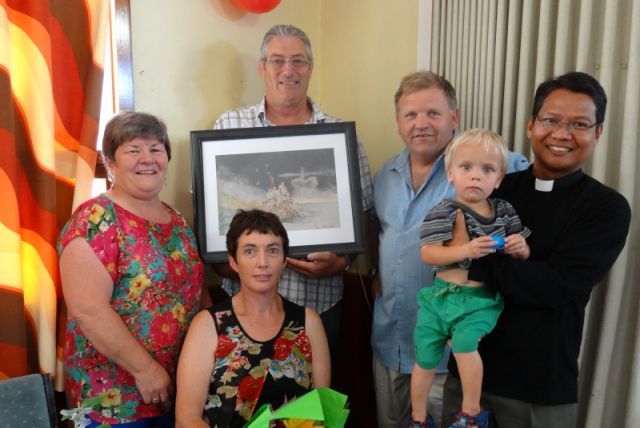 Standing - Aileen Straight, Murray Straight, Richie McCrea, Fr Lito holding Nikora McCrea
Front - Louise McCrea
The room where the lunch was held was beautifully decorated with flowers and the tables looked very colourful. Cecily Casey a member of one of the original groups cut the birthday cake. It was made by Barbara Davison an iced by Joan Lawn.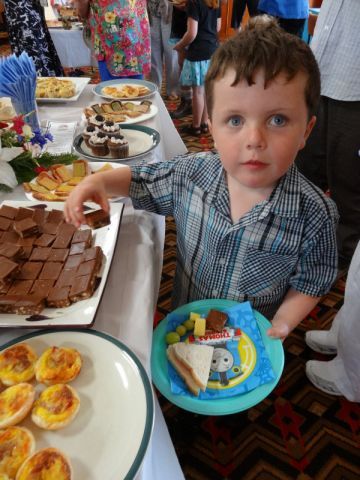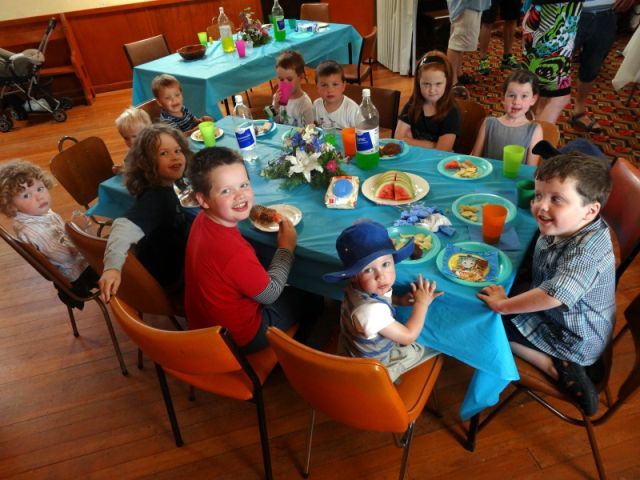 This celebration was a lovely friendly family occasion with all ages represented and new and old members of the groups shared their stories.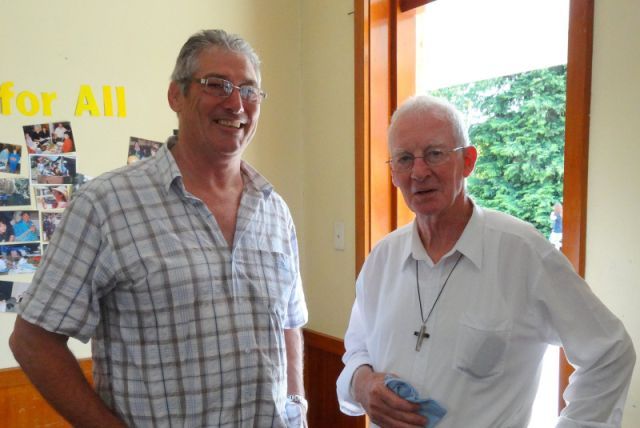 Murray Straight & Father Geoff
20 Years of Passionist Family Groups In New Plymouth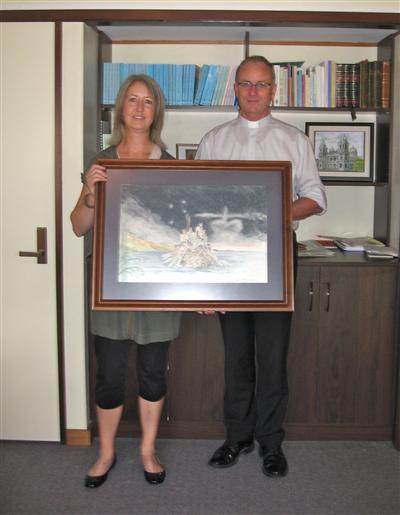 Linda Darbyshire (PNth Dio PFGM Director) and Palmerston North Diocese Bishop Charles Drennan.
On March 19th 2013 Palmerston North Diocese new Bishop Charles Drennan was invited to sign and write a personal message on the Voyage of Discovery Artworks. Bishop Charles wrote: 'May the work of the Passionist Family Groups continue to bear many fruits'.
As the artworks moves through each Diocese when individual Parishes celebrate 20 years of Passionist Family Groups, our Bishops are invited to sign the back of the artworks.
20 Years of Passionist Family Groups In New Plymouth
On the evening of Saturday June 18th people arrived at the hall underneath St Joseph's Church in New Plymouth to find the room alive with red, white and blue balloons and streamers. The tables were set and banners on the walls.
The room was soon a buzz of conversation and laughter as family group members met with their own family groups and other parishioners. There were some parishioners who had not been part of family groups before, and even some new immigrants who had responded to the warm welcome that had been offered at Masses the week before.
The youth of the parish had made our birthday celebration their activity for the week and they were there in force. It was great to have the company of dozens of positive teenagers as well as some young children.
We had the privilege of the company of our own two priests, Father Craig and Father Vijay and Bishop Peter and the newly installed Bishop Charles. All of whom were great company and seemed to enjoy connecting with parishioners.
An absolutely sumptuous pot luck tea was laid out on two long tables in the supper room. After the bishop said grace we all feasted. While we sat at our tables eating, we were serenaded by Valentino playing the guitar and singing.. Many of our number really enjoyed joining in with the well known songs Valentino was singing.
After dessert Kevin Kerr kept us busy and entertained with one of his famous quizzes. There was a lot of hilarity as family group teams and the youth teams wracked their brains for answers to questions on a wide range of topics.
Since Marjorie McMahon and Alice Hinton were also celebrating their birthdays, they cut the cake for the family group movement. It was particularly fitting that Marjorie and Alice cut the cake as Marjorie, who now lives in Cambridge, was the original parish co-ordinator along with her husband, Des. Alice was new to the family groups as she was visiting with the parish youth.
The evening was testament to the bonds and connections that the Passionist Family Groups have forged in the parish and to the spirit and enthusiasm that is still very much alive after 20 years.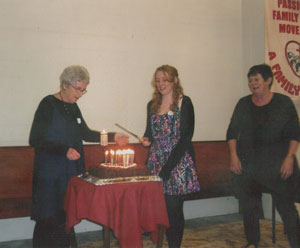 Majorie McMahon and Alice Hinton cut the PFG Birthday cake. Clare Grant, the current Parish Co, in the background.
20th Anniversary of Passionist Family Group Movement in St Peter and Paul, Lower Hutt
St Peter and Paul, Lower Hutt, were one of the early parishes in New Zealand to adopt the Passionist Family Group Movement. It is still going strong and in July 2010 celebrated 20 years of building community within the parish.
On the first weekend of July 2010, PFG members took a leading part in all Parish Masses. Members were Greeters, Leaders, Readers, Eucharistic Ministers and took up the Offertory. The regular music was supplemented with power point presentations that had been used at previous Formation Days, including the song" Shoulders", which was accompanied by a collection of photos from the last 20years. At the start of each Mass, the new PFG parish Banner was presented and hung on the front of the lectern.
Throughout the month of July, the PFG painting was also on display in the church, and there was a special display in the Foyer featuring the PFG Logo and "the Aims and Goals of the Movement". Each Family Group also displayed photos in the Foyer.
A Parish Dance was hosted by PFG on the last weekend of July in Lower Hutt's Horticultural Hall. It was open to all parishioners and was attended by about 200 people. Many people contributed to the success of the evening. Live music was provided by the band "No Strings Attached", which comprised several musicians from the parish. A celebration cake was made and iced by parishioners and many people helped on the day with the setting up, door duties and cleaning up afterwards. A commemorative booklet was produced in which there was an article from each Family Group as well as letters of congratulations from the Parish Council and our National PFG Leadership. Sponsorship in the booklet was obtained, to help keep the cost of the function to parishioners, down.
20 Years of Passionist Family Groups at St Mary's in Taradale
St Mary's in Taradale celebrated our 20th Birthday of the PFGM in our Parish on the weekend of 27/28th August.
At St Mary's the 'Voyage of Discovery' painting was hung in the Parish Centre foyer for all to view.
On Saturday the 27th August, we had a Combined Family Group Pot Luck meal at the Parish Centre (photos attached), and on the Sunday morning we had a special PFG Mass at 9am where Preston and Jenny Epplett spoke.
Following the Mass we had a celebratory morning tea for the whole parish. We had a good attendance and everyone seem to really enjoy the 20th anniversary celebrations.
20 Years of Passionist Family Groups at St Peter Chanel Parish Hastings West
On Sunday 13th November 2011 our five Passionist Family Groups celebrated our 20 years Anniversary. We commenced with a thanksgiving Mass celebrated by our Parish Priest Fr. Vince Onesi. A member from each family group processed in with their family group banner and the lectors and ministers of the Eucharist for the day were all P.F.G. members.
Linda Darbyshire, our Lower North Island director, spoke at mass and was able to stay on for the rest of the day's celebration. Also present were Shona Roberts our Heretaunga Pastoral coordinator, her husband Graeme, our Parish secretary Debbie Lucy, our first P.F.G coordinators Helena and Patrick McEntee, and a number of past family group members. Mass was followed by a very enjoyable shared lunch at our Parish Hall.
Helena and Patrick cut our birthday cake and Patrick gave a short summary of the development of Passionist Family Groups in our Parish. Today is a different scene from our set-up day at St Mary's School, 20 years ago, with Fr. Brian and Lynn Hill present. There were lots of families with young children who have now moved on and other families have taken their place in our now multicultural parish. It was a most enjoyable gathering of young and old, and many stories of past P.F.G. activities were recounted. Thanks to Linda Darbyshire for her presence and encouragement.
May God bless you all.
Jo and Allan Brady St Peter Chanel Parish Co-ordinator
Christchurch Parishes Celebrate 20th Anniversaries
During June & July this year three Christchurch parishes celebrated their twentieth anniversaries. Holy Trinity parish Bryndwr had a Friday night gathering with the theme of "The Roaring Twenties " An anniversary cake was cut by Ursula Corcoran and Bernie Renell both of whom were original group leaders. On Sunday the icon "The Voyage of Discovery" and candle were brought to the altar in the procession.
Our Lady of the Assumption Hoon Hay celebrated with all the groups at their Sunday Mass and in the afternoon held a car rally. A parishioner Catherine Metzer spoke about what being part of a family group meant to her and her family, she encouraged others to join a group.
Christ the King Burnside - Brian Cowan, who with his wife Kathleen were original members, spoke with great enthusiasm about how family groups had greatly enriched their lives. Monsignor Bill Middleton had the honour of cutting the anniversary cake at the shared lunch. Click hereto read Brian's talk.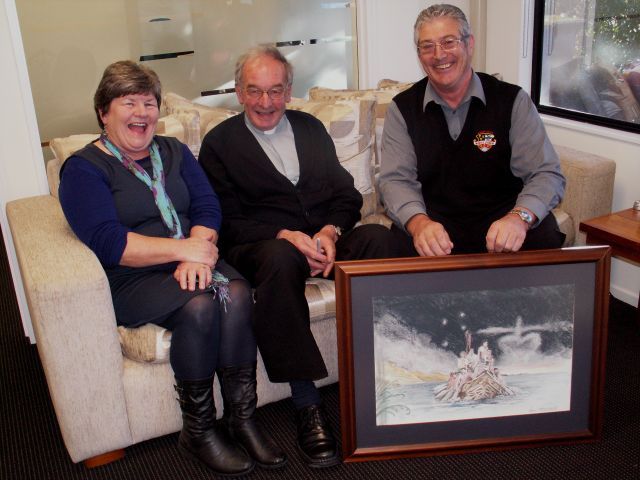 The photos above is of Murray & Aileen Straight from the Passionist Family Group Movement (South Island Directors), and Bishop Barry Jones who has made an inscription on the back of the painting 'Voyage of Discovery' with his good wishes and blessings. These are the words he wrote:
"You build the family spirit of the church which is a great work. Congratulations and blessings on you." - Barry Jones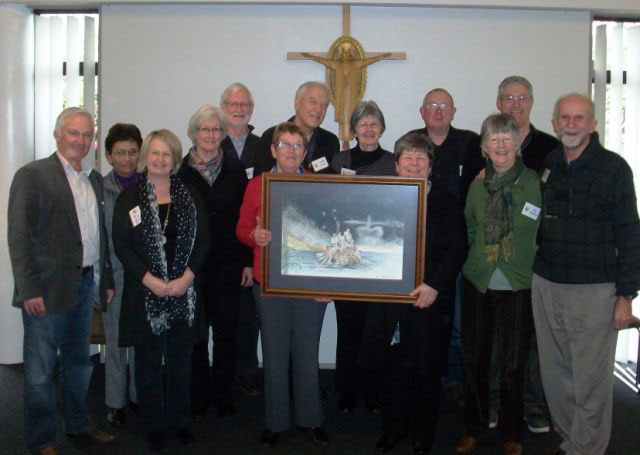 Parish Leaders are (from left): Jerome McNeill, Yvonne Chong, Mary-Ann Holgate, Geoff Holgate, Keith Reynolds, Kathleen Cowie, Brian Cowie Murray Straight Front row Kerry McNeill, Lorraine O'Rourke, Aileen Straight, Sue Sullivan, Frances Sullivan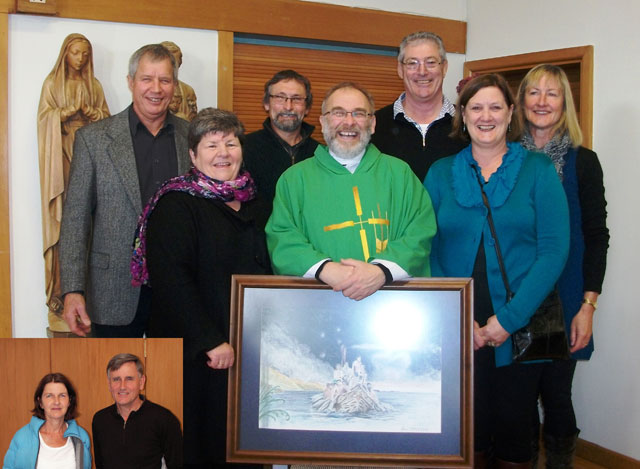 Back row left - Jim Kerr, Bob Arthurs, Murray Straight, Pamela Arthurs
Front row - Aileen Straight, Fr. Rick Loughnan, Maureen Kerr
The photo with parish leaders as an inset of Marie & John Otte who along with Maureen and Jim Kerr are parish co-ordinators. Pamela and Bob Arthurs are Christchurch Regional Co-ordinators.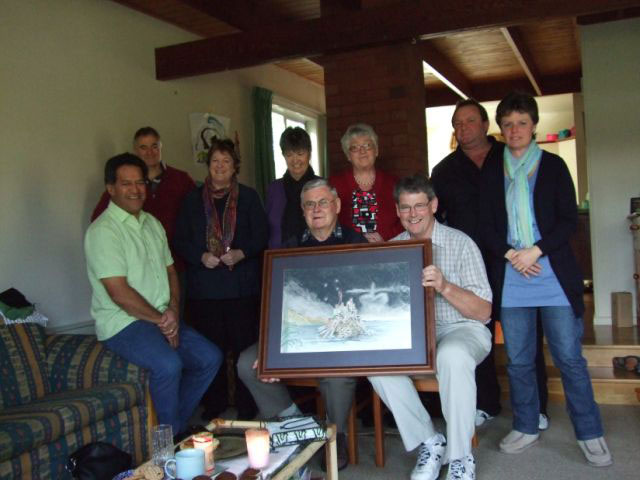 Hoon Hay leaders. Pictured standing back left Bernie Jordan, Jude Jordan, Anne Siave, Pat Maloney, Peter Hooker, Liz Hooker
Front left Henry Siave, Les Maloney, Kevin Whitburn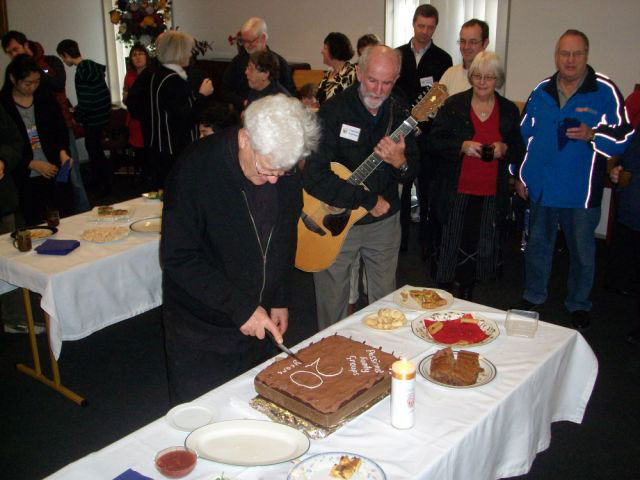 Monsignor Bill cutting the cake.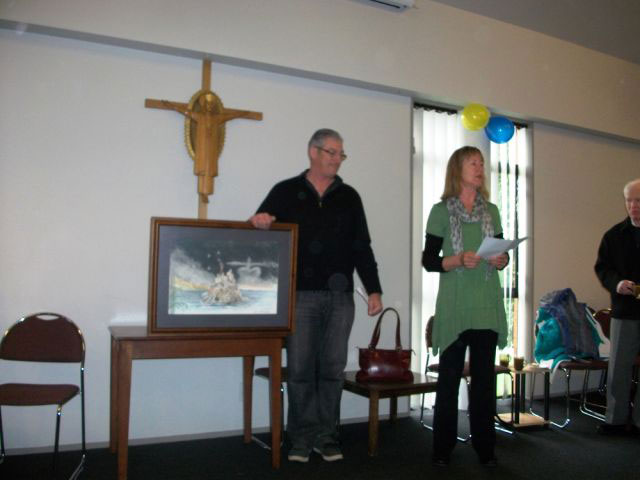 Murray Straight and Pamela Arthurs.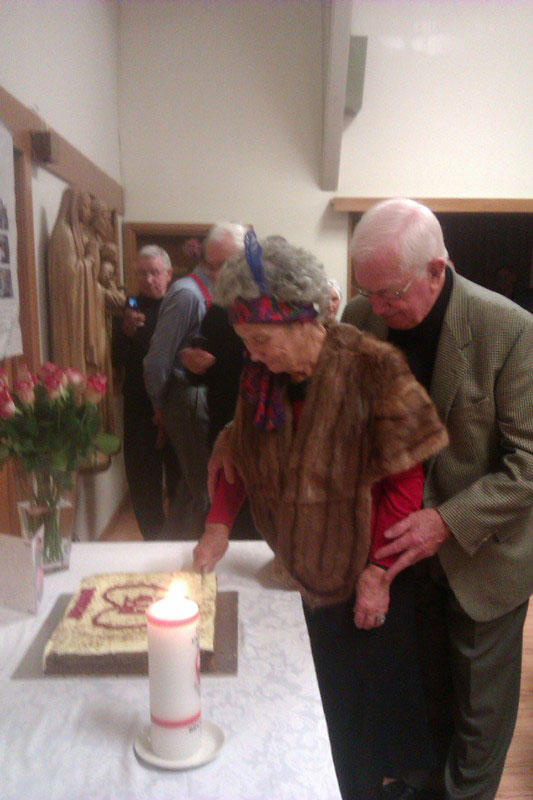 An anniversary cake was cut by Ursula Corcoran and Bernie Renell both of whom were original group leaders.
20 Years of Passionist Family Group Movement is Celebrated at St Thomas More Napier
St Thomas More Parish Napier celebrated twenty years of Passionist Family Groups in the Parish on the weekend of the 2-3 August.
Linda and Paul Darbyshire, the Diocesan Coordinators joined us for the weekend. On Saturday evening a dinner was held and was attended by over ninety people including Fr John Dykes who had been the Parish priest when the movement started. A candle was lit and a short memorial was held to remember those who had died but live on in our hearts. Between courses people shared favourite memories with the groups. There was a lot of laughter as incidents were recalled of outings and weekends away.
The birthday cake was cut at the end of the evening by Gladys McGirr the most senior person present and Patrick Mauga who was the youngest person
Sunday Mass was the special liturgical celebration of the event and Fr Peter Head sm spoke of the loaves and fishes in relation to how the Passionist Family Groups feed the people. Linda and Paul presented the parish with a miniature of the Icon painting and a special candle. The celebrations concluded with a special morning tea for all parishioners.
Gladys McGirr and Patrick Mauga cutting the cake
Mary King PFG parish Coordinator