On the evening of Saturday June 18th people arrived at the hall underneath St Joseph's Church in New Plymouth to find the room alive with red, white and blue balloons and streamers. The tables were set and banners on the walls.
The room was soon a buzz of conversation and laughter as family group members met with their own family groups and other parishioners. There were some parishioners who had not been part of family groups before, and even some new immigrants who had responded to the warm welcome that had been offered at Masses the week before.
The youth of the parish had made our birthday celebration their activity for the week and they were there in force. It was great to have the company of dozens of positive teenagers as well as some young children.
We had the privilege of the company of our own two priests, Father Craig and Father Vijay and Bishop Peter and the newly installed Bishop Charles. All of whom were great company and seemed to enjoy connecting with parishioners.
An absolutely sumptuous pot luck tea was laid out on two long tables in the supper room.  After the bishop said grace we all feasted. While we sat at our tables eating, we were serenaded by Valentino playing the guitar and singing.. Many of our number really enjoyed joining in with the well known songs Valentino was singing.
After dessert Kevin Kerr kept us busy and entertained with one of his famous quizzes. There was a lot of hilarity as family group teams and the youth teams wracked their brains for answers to questions on a wide range of topics.
Since Marjorie McMahon and Alice Hinton were also celebrating their birthdays, they cut the cake for the family group movement. It was particularly fitting that Marjorie and Alice cut the cake as Marjorie, who now lives in Cambridge, was the original parish co-ordinator along with her husband, Des. Alice was new to the family groups as she was visiting with the parish youth.
The evening was testament to the bonds and connections that the Passionist Family Groups have forged in the parish and to the spirit and enthusiasm that is still very much alive after 20 years.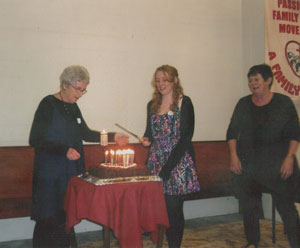 Majorie McMahon and Alice Hinton cut the PFG Birthday cake.  Clare Grant, the current Parish Co,  in the background.