On Friday evening 28th June St Mary's Parish, Paeroa celebrated the 25th Anniversary of Passionist Family Groups in the Parish.  All original Group Coordinators were present (Pat O'Hara deceased) and a message was read our from Joan Simson who was unable to be there (Kevin deceased) Kevin and Joan were the original Parish Coordinators.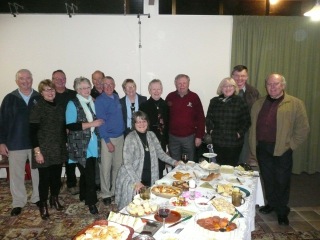 Fr Brian Traynor CP (Melbourne) and Bishop Denis Browne also attended.
Charlie & Maggie are the Coordinators in Paeroa, and Charlie led the evening, starting with   the song  'Welcome to the Family', which has been sed as a PFGM Song all these years.
David Corbett (Group Coordinator) read from Acts 11:19-30 and this was followed by a reflection on the Priests who had served in the Parish over this past 25 years.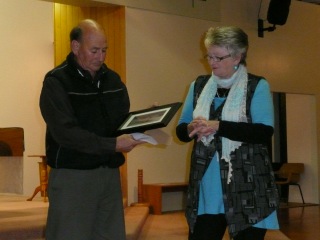 Deceased members were remembered, and this was followed by Prayer lead by Brian Traynor CP
We gathered in small groups to share memories of the 25 years and there was laughter and tears in this session.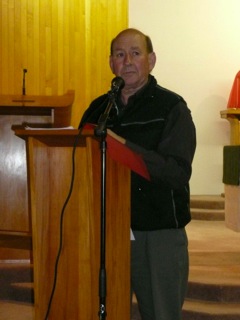 The next session named 'sharing the story' included talks from Brian Traynor and Lynn Hill (notes from these below)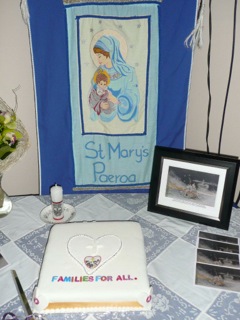 Charlie read a Poem of Pat O'Hara named 'the Mission', written to mark the Mission presented by Brian Traynor CP & Steve McGarry CP in 1979. This was followed by a presentation to Brian to thank him for his 25 years of work for PFGM, and a Presentation to Charlie and Maggie Gribble of a photo of the Painting 'Voyage of Discovery' for the FGs in Paeroa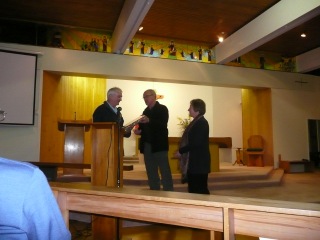 Bishop Denis spoke of the work of PFGM in the Diocese and thanked those involved in this.  He thanked Brian for his service to PFGM in New Zealand and also thanked Rob & Lynn.  Bishop then gave a blessing, the song 'Bind us Tother' was sung, and we adjourned to the Parish Lounge for supper and the cutting of the Anniversary Cake.