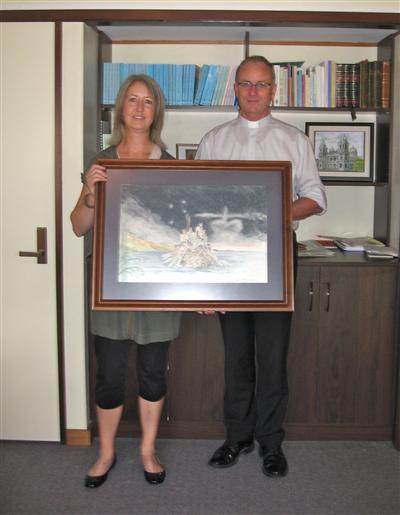 Linda Darbyshire (PNth Dio PFGM Director) and Palmerston North Diocese Bishop Charles Drennan.
On March 19th 2013 Palmerston North Diocese new Bishop Charles Drennan was invited to sign and write a personal message on the Voyage of Discovery Artworks. Bishop Charles wrote: 'May the work of the Passionist Family Groups continue to bear many fruits'.
As the artworks moves through each Diocese when individual Parishes celebrate 20 years of Passionist Family Groups, our Bishops are invited to sign the back of the artworks.
20 Years of Passionist Family Groups In New Plymouth
On the evening of Saturday June 18th people arrived at the hall underneath St Joseph's Church in New Plymouth to find the room alive with red, white and blue balloons and streamers. The tables were set and banners on the walls.
The room was soon a buzz of conversation and laughter as family group members met with their own family groups and other parishioners. There were some parishioners who had not been part of family groups before, and even some new immigrants who had responded to the warm welcome that had been offered at Masses the week before.
The youth of the parish had made our birthday celebration their activity for the week and they were there in force. It was great to have the company of dozens of positive teenagers as well as some young children.
We had the privilege of the company of our own two priests, Father Craig and Father Vijay and Bishop Peter and the newly installed Bishop Charles. All of whom were great company and seemed to enjoy connecting with parishioners.
An absolutely sumptuous pot luck tea was laid out on two long tables in the supper room.  After the bishop said grace we all feasted. While we sat at our tables eating, we were serenaded by Valentino playing the guitar and singing.. Many of our number really enjoyed joining in with the well known songs Valentino was singing.
After dessert Kevin Kerr kept us busy and entertained with one of his famous quizzes. There was a lot of hilarity as family group teams and the youth teams wracked their brains for answers to questions on a wide range of topics.
Since Marjorie McMahon and Alice Hinton were also celebrating their birthdays, they cut the cake for the family group movement. It was particularly fitting that Marjorie and Alice cut the cake as Marjorie, who now lives in Cambridge, was the original parish co-ordinator along with her husband, Des. Alice was new to the family groups as she was visiting with the parish youth.
The evening was testament to the bonds and connections that the Passionist Family Groups have forged in the parish and to the spirit and enthusiasm that is still very much alive after 20 years.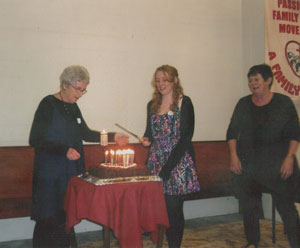 Majorie McMahon and Alice Hinton cut the PFG Birthday cake.  Clare Grant, the current Parish Co,  in the background.
20th Anniversary of Passionist Family Group Movement in St Peter and Paul, Lower Hutt
St Peter and Paul, Lower Hutt, were one of the early parishes in New Zealand to adopt the Passionist Family Group Movement.  It is still going strong and in July 2010 celebrated 20 years of building community within the parish.
On the first weekend of July 2010, PFG members took a leading part in all Parish Masses. Members were Greeters, Leaders, Readers, Eucharistic Ministers and took up the Offertory. The regular music was supplemented with power point presentations that had been used at previous Formation Days, including the song" Shoulders", which was accompanied by a collection of photos from the last 20years. At the start of each Mass, the new PFG parish Banner was presented and hung on the front of the lectern.
Throughout the month of July, the PFG painting was also on display in the church, and there was a special display in the Foyer featuring the PFG Logo and "the Aims and Goals of the Movement". Each Family Group also displayed photos in the Foyer.
A Parish Dance was hosted by PFG on the last weekend of July in Lower Hutt's Horticultural Hall. It was open to all parishioners and was attended by about 200 people. Many people contributed to the success of the evening. Live music was provided by the band "No Strings Attached", which comprised several musicians from the parish. A celebration cake was made and iced by parishioners and many people helped on the day with the setting up, door duties and cleaning up afterwards. A commemorative booklet was produced in which there was an article from each Family Group as well as letters of congratulations from the Parish Council and our National PFG Leadership. Sponsorship in the booklet was obtained, to help keep the cost of the function to parishioners, down.
20 Years of Passionist Family Groups at St Mary's in Taradale
St Mary's in Taradale celebrated our 20th Birthday of the PFGM in our Parish on the weekend of 27/28th August.
At St Mary's the 'Voyage of Discovery' painting was hung in the Parish Centre foyer for all to view.
On Saturday the 27th August, we had a Combined Family Group Pot Luck meal at the Parish Centre (photos attached), and on the Sunday morning we had a special PFG Mass at 9am where Preston and Jenny Epplett spoke.
Following the Mass we had a celebratory morning tea for the whole parish. We had a good attendance and everyone seem to really enjoy the 20th anniversary celebrations.
20 Years of Passionist Family Groups at St Peter Chanel Parish Hastings West
On Sunday 13th November 2011 our five Passionist Family Groups celebrated our 20 years Anniversary. We commenced with a thanksgiving Mass celebrated by our Parish Priest Fr. Vince Onesi. A member from each family group processed in with their family group banner and the lectors and ministers of the Eucharist for the day were all P.F.G. members.
Linda Darbyshire, our Lower North Island director, spoke at mass and was able to stay on for the rest of the day's celebration. Also present were Shona Roberts our Heretaunga Pastoral coordinator, her husband Graeme, our Parish secretary Debbie Lucy, our first P.F.G coordinators Helena and Patrick McEntee, and a number of past family group members. Mass was followed by a very enjoyable shared lunch at our Parish Hall.
Helena and Patrick cut our birthday cake and Patrick gave a short summary of the development of Passionist Family Groups in our Parish. Today is a different scene from our set-up day at St Mary's School, 20 years ago, with Fr. Brian and Lynn Hill present. There were lots of families with young children who have now moved on and other families have taken their place in our now multicultural parish. It was a most enjoyable gathering of young and old, and many stories of past P.F.G. activities were recounted. Thanks to Linda Darbyshire for her presence and encouragement.
May God bless you all.
Jo and Allan Brady St Peter Chanel Parish Co-ordinator
Christchurch Parishes Celebrate 20th Anniversaries
During June & July this year three Christchurch parishes celebrated their twentieth anniversaries. Holy Trinity parish Bryndwr had a Friday night gathering with the theme of "The Roaring Twenties " An anniversary cake was cut by Ursula Corcoran and Bernie Renell both of whom were original group leaders. On Sunday the icon "The Voyage of Discovery" and candle were brought to the altar in the procession.
Our Lady of the Assumption Hoon Hay celebrated with all the groups at their Sunday Mass and in the afternoon held a car rally. A parishioner Catherine Metzer spoke about what being part of a family group meant to her and her family, she encouraged others to join a group.
Christ the King Burnside – Brian Cowan, who with his wife Kathleen were original members, spoke with great enthusiasm about how family groups had greatly enriched their lives. Monsignor Bill Middleton had the honour of cutting the anniversary cake at the shared lunch. Click hereto read Brian's talk.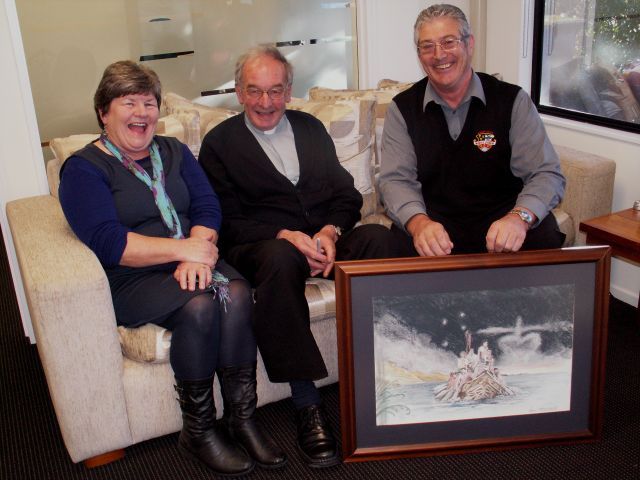 The photos above is of Murray & Aileen Straight from the Passionist Family Group Movement (South Island Directors), and Bishop Barry Jones who has made an inscription on the back of the painting 'Voyage of Discovery' with his good wishes and blessings. These are the words he wrote:
"You build the family spirit of the church which is a great work. Congratulations and blessings on you." – Barry Jones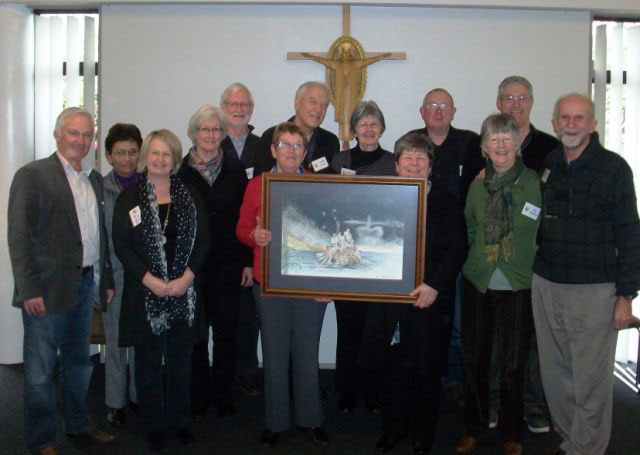 Parish Leaders are (from left): Jerome McNeill, Yvonne Chong, Mary-Ann Holgate, Geoff Holgate, Keith Reynolds, Kathleen Cowie, Brian Cowie Murray Straight Front row Kerry McNeill, Lorraine O'Rourke, Aileen Straight, Sue Sullivan, Frances Sullivan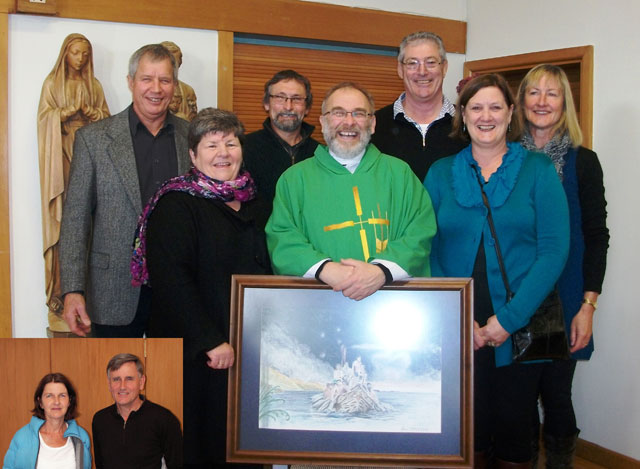 Back row left – Jim Kerr, Bob Arthurs, Murray Straight, Pamela Arthurs
Front row – Aileen Straight, Fr. Rick Loughnan, Maureen Kerr
The photo with parish leaders as an inset of Marie & John Otte who along with Maureen and Jim Kerr are parish co-ordinators. Pamela and Bob Arthurs are Christchurch Regional Co-ordinators.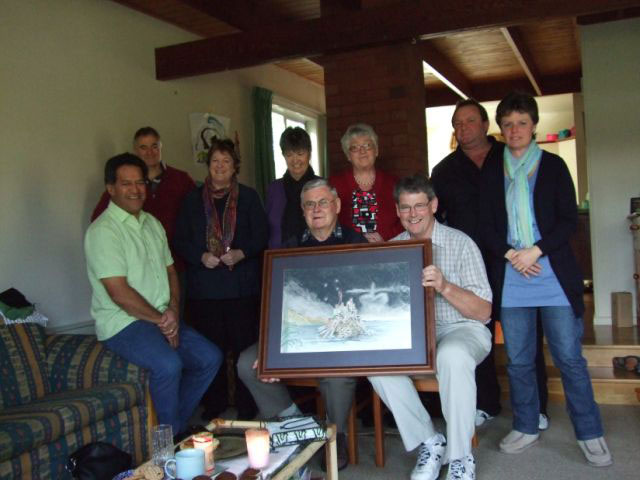 Hoon Hay leaders. Pictured standing back left  Bernie Jordan, Jude Jordan, Anne Siave, Pat Maloney, Peter Hooker, Liz Hooker
Front left Henry Siave, Les Maloney, Kevin Whitburn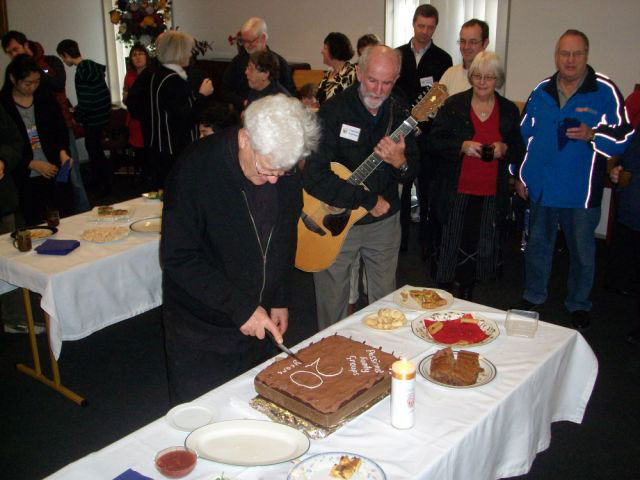 Monsignor Bill cutting the cake.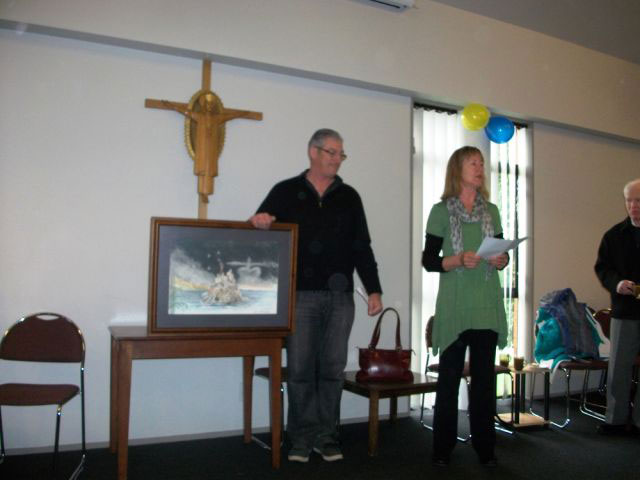 Murray Straight and Pamela Arthurs.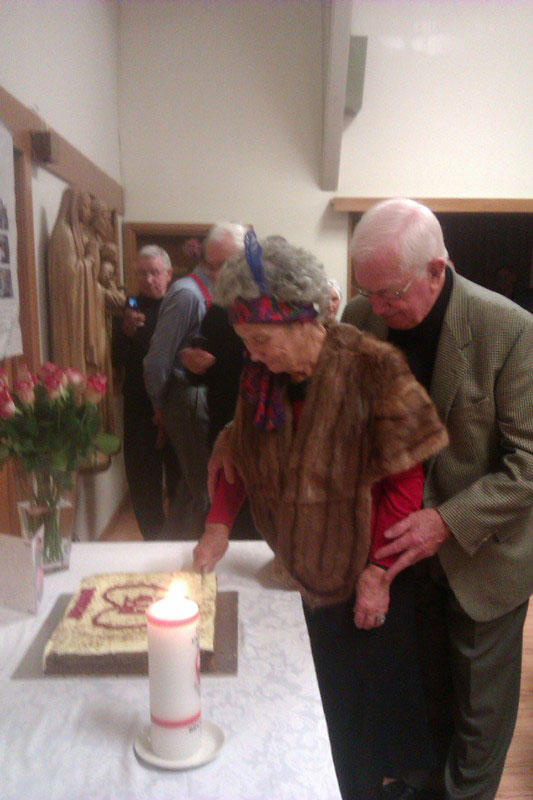 An anniversary cake was cut by Ursula Corcoran and Bernie Renell both of whom were original group leaders.