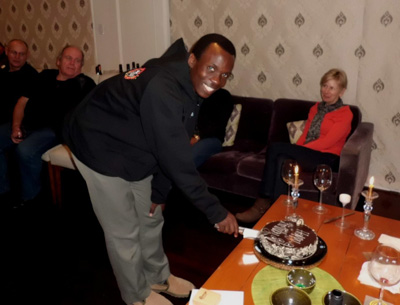 Brother Erik Niyiragira's 25th Birthday Celebration With Passionist Family Groups At the home of John & Rosie Crawford Auckland, New Zealand 1st July 2013
Brother Erik Niyiragira, a professed Passionist living in Melbourne Passionist Community and studing for Priesthood is presently in New Zealand. He has attended the 25th PFGM celebrations in Paeroa and East Coast Bays, spoken at Hato Petera College in Auckland before flying to Nelson where he was hosted by Paul & Clare Traynor and spoke at Garin College before travelling to the Blenheim Passionist Community. Erik will visit PFG/Companions in Wellington before attending the Youth & Young Adults Retreats in Palmerston North. Whilst here, Erik celebrated his 26th birthday.
Among the variety of food was the African food, "Ugali" (a stiff porridge made out of maize meal) and an accompaniment of a leafy green vegetable cooked with spices & some meat. Bro Erik was pleasantly surprised to see familiar food on the table. He enjoyed eating it in the familiar manner.
Thanks to Rosie & John for hosting a memorable evening to celebrate Brother Erik's visit and his 25th birthday on 1st July 2013 Pictures compiled by Anne Perera Food & Nutrition Consultant Auckland, New Zealand anneperera.nz@gmail.com www.anneperera.co.nz